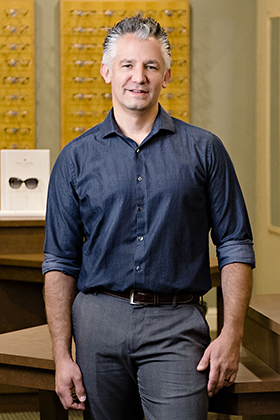 David J. Ruckman O.D. is board certified in the treatment and management of ocular disease. 
He completed his bachelor's degree in Biology with high honors with a secondary emphasis in biochemistry from the University of Nevada, Reno.
He attained his Doctorate of Optometry with distinction from Pacific University College of Optometry.  During his last year of Optometry school he gained a wide range of clinical experience through a series of rotations spanning from The Washington State School for the Blind in Vancouver, Washington to the prestigious Bascom Palmer Eye Institute in Miami, Florida, in subfields including: contact lenses, low vision, ocular disease, primary care, glaucoma, corneal disease, surgical co-management, pediatrics, and neuro-rehabilitative optometry.  
After graduating from Optometry school he completed a residency in ocular disease and refractive and ocular surgery co-management at Eye Care Associates of Nevada.  He has lectured from coast to coast on the application of medically necessary contact lenses
He is the recipient of the American Optometric Foundation 2013 Award of Excellence in Contact Lens Patient Care.  He was a four-year member of the Beta Sigma Kappa Optometric Honor Society as well as a member of four other national honor societies.  He graduated as the Westfall Scholar from the University of Nevada, Reno.